congatec Whitepapers
Symbiosis of Mini-ITX and COM Express
High-end industrial applications demand continuous performance
upgrades. In times when new embedded processor generations
offer significant performance gains each year, modular designs
present a distinct advantage.
Click here to get the Whitepaper
Modular fog servers with real-time support
The future of Industry 4.0 systems across all sectors lies in the
combination of fog server and real time technology. This makes
real-time hypervisors and real-time communication standards a must.
That is why the new COM Express Type 7 Server-on-Modules from
congatec now also support real-time virtualization from RTS as well
as deterministic communication over 10GbE.
Click here to get the Whitepaper
Closing the loop on industrial manufacturing efficiency with COM Express Type 7 Converged Infrastructure Solutions
As industrial manufacturers look to capitalize on the efficiency and insights of Industry 4.0 (otherwise known as the Industrial Internet of Things (IIoT)) they must transition their electronics infrastructure to support intelligence at the edge of operational networks.
Click here to get the Whitepaper
Device development with SMARC 2.0
SMARC 2.0 is the great new Computer-on-Modules standard for the efficient design of powerful and feature-rich small form factor (SFF) applications.
To get your SMARC design up and running within the shortest time possible, congatec provides you with modules, evaluation carrier boards, starter kits, and cooling solutions.
Click here to get the SMARC Carrier Board Design Paper
Intel & RTS Whitepaper
Real-Time Systems and Intel take industrial embedded systems to the next level
Innovative hypervisor and partitioning software increases flexibility and functionality for industry
Click here to get the Intel & Real-Time Systems Whitepaper
AMD Ryzen Whitepaper
New benchmark modules for high-end embedded computing
congatec COM Express Type 6 modules with AMD Ryzen™ Embedded processors
Click here to get the congatec AMD Ryzen Whitepaper
MIPI Camera Whitepaper
congatec and Intel accelerate Time to Market for Small, Smart Cameras
Click here to get the MIPI Camera Whitepaper
COM Express Type 7 fog server Whitepaper
10 GbE in real time
COM Express Type 7 for fog and Industry 4.0 servers
Click here to get the Type 7 server Whitepaper
USB Type-C Whitepaper
Want to use USB-C for Embedded? Do it right!
Advantages and Pitfalls of USB-C Implementations
Click here to get the USB Type-C Whitepaper
Computer-on-Modules Whitepaper
Computer-on-Modules are world-leading platforms for embedded system designs. congatec explains what makes them so attractive and what are their limitations?
Click here to get the COM Whitepaper
SBC Whitepaper
congatec explains what really counts if you want to deploy motherboards outside your cozy home and office.
Click here to get the SBC Whitepaper
SMARC 2.0 Whitepaper
SMARC 2.0 - A New Standard to Bridge the Gap between Qseven and COM Express
Click here to get the SMARC 2.0 Whitepaper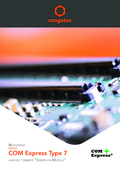 COM Express Type 7 Whitepaper
COM Express is heading towards "Server-on-Module"
Click here to get the COM Express Type 7 Whitepaper
Apollo Lake Whitepaper
Next generation Intel® low-power "Apollo Lake" processors and their benefits
Click here to get the Apollo Lake Whitepaper